June 22, 2020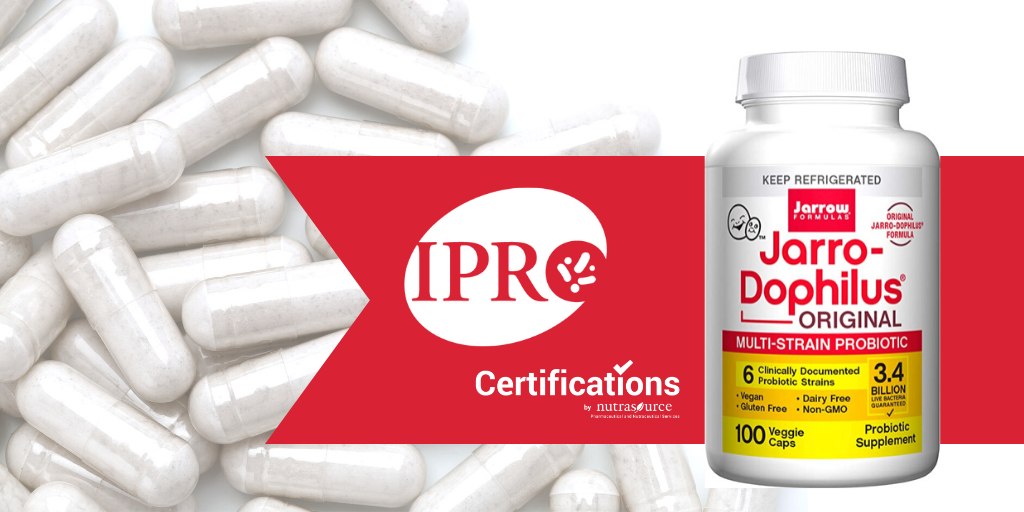 Nutrasource Pharmaceutical & Nutraceutical Services (Nutrasource) and Jarrow Formulas Inc. (Jarrow Formulas) are proud to jointly announce that the Jarrow Probiotic line is now certified through the International Probiotic Testing Standards (IPRO) third-party certification program.  
Jarrow Formulas boasts an extensive line of probiotic products ranging from infant formulations to women's health supplements and anything in between. Already known for its high-quality products that are rooted in science, joining IPRO was the next step for Jarrow Formulas to demonstrate once again its commitment to product quality and transparency with consumers.  
"The IPRO program is proud to certify Jarrow Formulas as a provider of high-quality probiotic dietary supplements," says Kevin Yan, Director of Certifications and Analytics. "Consumers can be overwhelmed by choice and options in the probiotic space, and by becoming IPRO certified, Jarrow Formulas is showcasing the transparency of a company that believes in the quality of their products." 
"As a leading innovator of probiotic dietary supplement formulations for over 30 years, the IPRO certification, an independent verification of quality assurance, across the Jarrow Formulas' probiotic line is confirmation of the quality standards we have consistently provided in our products and expected by our consumers.  The probiotics category is now flooded with products, many which would not meet the minimum criteria to be considered genuine probiotics as they are understood scientifically, so consumers are overwhelmed with choices," Dr Anthony Thomas, Director Scientific Affairs, Jarrow Formulas. He continued, "IPRO certification provides consumers with another reason to have confidence in the Jarro-Dophilus
 line of probiotic supplements."
The IPRO program is for probiotic companies who are willing to test their products against the highest global standards. It joins IFOS (fish oil), IGEN (non-GMO), and ICAP (cannabinoids) under the Certifications by Nutrasource brand. The certifications platform allows consumers to navigate certified products by region, product format, company, and/or certification program with free access to lot-specific testing results. To learn more about IPRO and/or other Nutrasource certification programs, visit Certifications by Nutrasource.