September 27, 2021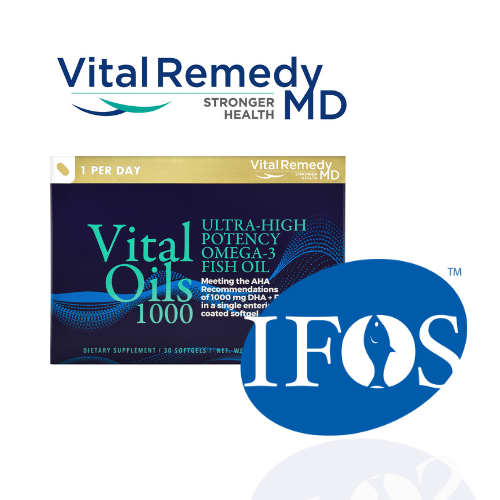 Congratulations to one of our newest IFOS members, VitalRemedyMD. VitalOils1000, one of the company's start products, has recently been certified IFOS's 5-star rating from Certifications by Nutrasource, a leading omega-3 certification program globally.
Said the VitalRemedyMD team: "After 15 years, VitalRemedyMD continues to produce VitalOils1000. Formulated and recommended by physicians, VitalOils1000 is a high concentration omega-3 fish oil, processed to the highest purity from the best sources of anchovies and sardines from the cold-water coast of Chile & Peru. Great tasting and free of impurities and free radicals, VitalOils1000 is now one of the best in the USA. VitalRemedyMD is also a sociably responsible company with a mission to rid the oceans of plastic by donating a portion of its revenue to various environmental organizations worldwide."
IFOS is a testing and certification program, as part of the Certifications brand, for omega-3s and marine oils. It evaluates products on a lot-to-lot basis for safety, purity and quality. Learn more about our omega-3 certification program, International Fish Oil Standards (IFOS).