August 09, 2022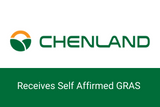 Guelph, ON – August 9, 2022 - Chenland Nutritionals, a developer and manufacturer for branded ingredients, has announced today with the assistance from GRAS Associates, a fully owned subsidiary of Nutrasource, the completed GRAS affirmation for their branded ingredient CuminUP60®.
"CuminUP60® is the uniquely processed curcuminoids with our CGSF technology, and having great water dispersibility is excellent for liquid beverage application," said Chenland Nutritionals' CTO, Dr. Zimin Liu. "Working closely with the dedicated Nutrasource team for this completed CuminUP60® GRAS affirmation opens the door for conventional food usage, like nutritional beverages, protein powders, sport and energy drinks, condiments and sauces, et al. We are excited about all the possibilities with CuminUP60®."
CuminUP60® Applications Include:
Capsules
Tablets
Liquid
Drink Mix Powder
Gummies
Amy Mozingo, Vice President of US Nutra Regulatory Sciences, Nutrasource/GRAS Associates shared, "GRAS Associates/Nutrasource is pleased have assisted with the successful Generally Recognized as Safe conclusion for Chenland Nutritionals, Inc's CuminUP60®. The compilation of the dossier in support of the GRAS status was a team effort between Nutrasource's Dr. Margitta Dziwenka, DVM, DABT (Director, Preclinical Services and Companion Animal Services) and Kaiti Valm, MBA, M.Sc., RLAT (Project Manager, Regulatory Sciences) and Chenland's Chief Technology Officer Zimin (David) Liu, Ph.D. GRAS Associates/Nutrasource always strives to treat the Sponsor as a partner in the GRAS process to achieve success."
GRAS Associates assists supplement and food ingredient companies with full regulatory scientific services from concept to claim, including regulatory guidance and program development, establishing safety of ingredients, claims substantiation, and technical label review for U.S. market access
For more information on GRAS services, click here.
About Chenland Nutritionals, Inc
Chenland Nutritionals, Inc is a developer and manufacturer of branded ingredients. We develop the branded ingredients based on traditional Chinese medicine and validate their health benefits through in vitro tests, animal studies, and human clinical trials.
About Nutrasource Pharmaceutical and Nutraceutical Services Inc.
Nutrasource is a leading nutraceutical and pharmaceutical life scinces company that brings together the strategy, expertise and services required to help clients commercialize health and wellness products with strong science and regulatory confidence. Our unique offering of clinical trial management, strategic and regulatory consulting services along with a state-of-the-art clinical trial site has been developed with one goal in mind – your success in the global marketplace. We also offer a series of third-party certification programs focused on natural health ingredients such as omega-3s (IFOS™), probiotics (IPRO™), non-GMO (IGEN™), and CBD (ICAP™). All of our groups work closely with our research and development team, which is developing timely products such as POC (Point-of-Care) technology and a RWD (Real World Data) system for consumer information collection.