If you want to test blood samples for omega-3 fatty acid level, SGS Nutrasource can help.
For 20 years the largest central labs and health clinics in North America have trusted SGS Nutrasource to perform fatty acid (omega-3 and 6) analysis of their patients samples so they can help their patients achieve their health goals and best life. SGS Nutrasource's co-founder Dr. Bruce Holub, Professor Emeritus at the University of Guelph, was a pioneer in developing the first fatty acid diagnostic tests.
Get results in 3 simple steps.
Draw a blood sample (plasma or whole blood) into an EDTA tube;
Ship the blood sample to  SGS Nutrasource's Lab in Guelph, Ontario;
After samples are received, results are sent back by email in the form of an easy-to-understand 2-page report within 5 to 7 business days.
SGS Nutrasource can process red blood cell, plasma/serum and whole blood samples. The lab is ISO accredited so you can trust the results are accurate.
The SGS Nutrasource omega-3 test report includes Omega Index, EPA, DHA, AA, DPA, and more. The results also include easy to understand, red/yellow/green risk factors supported by clinical research associated with cardiovascular health, mortality, and heart attacks. An example of the results can be found below in a sample report.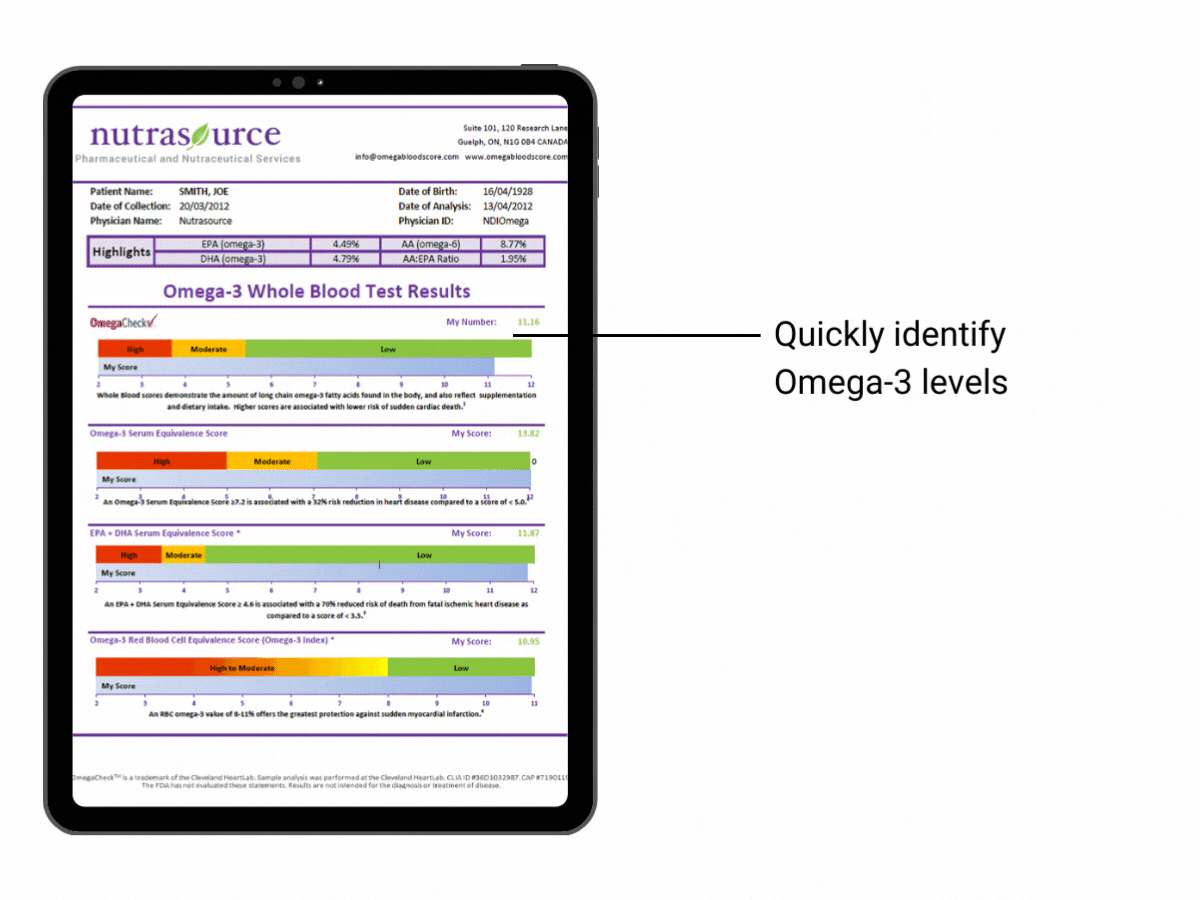 What scientifically validated reasons may you and/or your patients have for wanting to know their omega-3 levels? A good place to answer that question is based on the Health Canada approved monograph for omega-3 fish oil. This scientifically validated monograph approves claims for:
Reducing triglyceride levels
Supporting cardiovascular health
Supporting cognitive health and brain function
Help support the development of the brain, eyes, and nerves of children
Help promote a healthy mood balance
To maintain good health
Help reduce the pain of rheumatoid arthritis
Why is measuring omega-3 levels so important?
Clinical studies have consistently shown that people with low omega-3 levels benefit most from supplementation. Knowing a patients omega-3 levels can inform whether that patient should begin using fish oil.
If you have any questions and are interested in helping your patients achieve their health goals with omega-3s, please contact us today!