November 16, 2021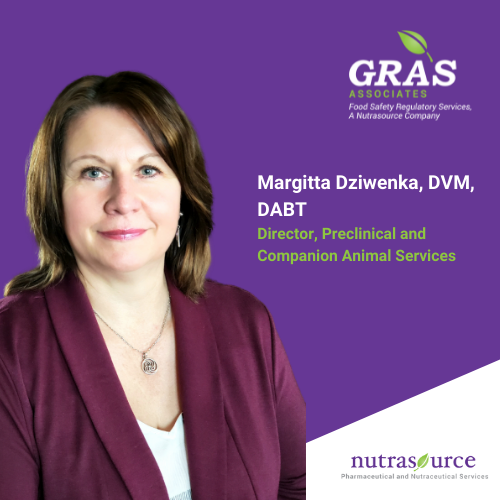 Nutrasource Pharmaceutical and Nutraceutical Services Inc. (Nutrasource) expands US Nutra Regulatory Sciences team and enhances capabilities by hiring Dr. Margitta Dziwenka, DVM, DABT as Director of Preclinical and Companion Animal Services.
Welcome, Dr. Dziwenka!
Dr. Dziwenka is a Registered Veterinarian as well as a Board Certified Toxicologist.  She has many years of experience with companion animals as a practicing veterinarian in addition to experience in laboratory animal medicine. Dr. Dziwenka also brings extensive experience in designing and conducting preclinical research studies including safety, pharmacokinetic and efficacy studies, both as a Study Director and Study Monitor, in a variety of laboratory species. She is well versed in regulatory aspects including Good Laboratory Practice, submission of GRAS dossiers and NDI notifications. Dr. Dziwenka has managed a large Canadian Council of Animal Care (CCAC) accredited university facility and has over 10 years of experience as a member of Institutional Animal Care and Use Committees.  
Dr. Dziwenka is a full member of the Society of Toxicology and a diplomate of the American Board of Toxicology. She is also a member of the Canadian Veterinary Medical Association and a past president and member of the Alberta Veterinary Medical Association.  
 Connect with Dr. Dziwenka