December 11, 2019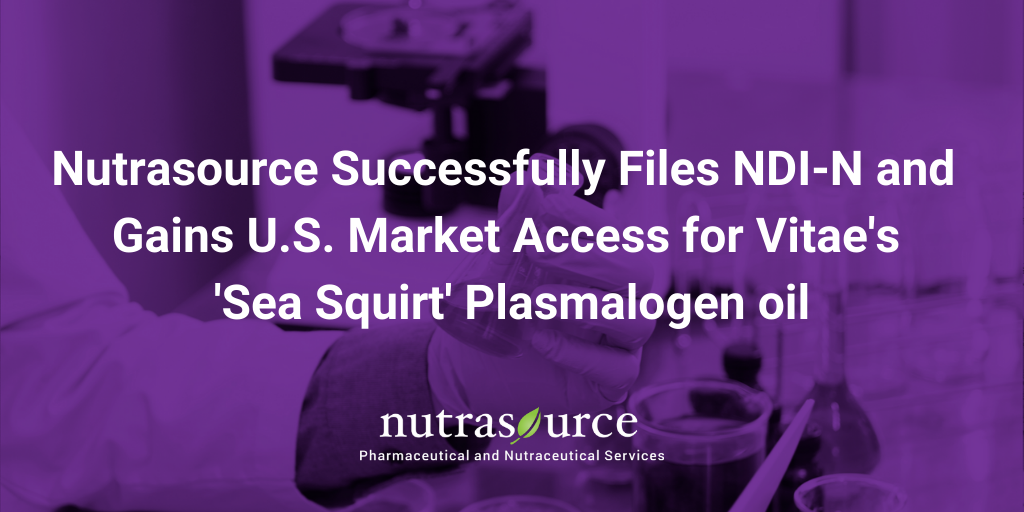 Guelph, ON (November 20th, 2019)
Nutrasource Pharmacetucial and Nutraceutical Services (Nutrasource) on behalf of Vitae Corp Japan Inc. (Vitae) successfully filed a New Dietary Ingredient Notification (NDI-N) to the Food and Drug Administration (FDA) for Sea Squirt Plasmalogen Oil, a proprietary blend containing plasmalogen-rich extract from Halocyntia roretzi (Sea Squirt). Plasmalogens are a natural, major class of glycerolphospholipids which are found in almost all mammalian tissues, with particularly high levels in the brain and nervous system. Plasmalogen content in tissues generally decrease with age and affects the function of brain.
On November 18th, 2019, a no objections letter was received from the FDA signaling the success of the NDI-N application. This allows Sea Squirt Plasmalogen Oil to be distributed in the U.S. following the 75-day premarket period.
"GRAS Associates (a Nutrasource company) is very pleased to have facilitated the entry of Vitae's Sea Squirt Plasmalogen Oil new dietary ingredient into the US market,", said Amy Mozingo, Director of U.S. Operations, GRAS Associates LLC. She continued, "The GRAS Associates team focused on the science and worked with Vitae and the Office of Dietary Supplement Programs to achieve this favorable outcome."
"With the help of GRAS Associates, we successfully filed a NDIN application. This leads us into a huge market where people know what Plasmalogen is about.  We are very happy with the outcome," says Dr. Yoshiharu Matahira who spent years in research and development for Plasmalogen. He also said that, "Plasmalogen is proven to be effective for seniors to support brain function, and we hope that it will help seniors in the U.S have better quality of life."
Nutrasource is happy to have facilitated U.S. market authorization and access on behalf of our client and looks forward to continuously contributing to the advancement of dietary supplements in U.S. and globally.
About Nutrasource
Nutrasource is a premier CRO that brings unparalleled expertise in nutrition, regulatory affairs, and pharmaceutical science to help clients achieve compliance and gain market entry for health products globally. With nearly 20 years' experience across the entire product spectrum from foods and supplements to pharmaceuticals, Nutrasource provides vertically-integrated solutions and unmatched scientific acumen in the pharmaceutical and nutraceutical industries to design and execute clinical trials as well as develop regulatory strategies that provide a unique advantage in product commercialization. No other CRO has the combination of personnel, with the breadth and depth of experience in both pharmaceutical development and natural health products, providing the leadership needed to launch products with strong science and regulatory confidence – from concept to claim. www.nutrasource.ca
In addition to GRAS Associates LLC, the Nutrasource family of brands also includes Certifications by Nutrasource, a series of consumer-facing health product certification programs (for marine oils, probiotics, non-GMO, and CBD), as well as Nutrasource Asia.
About Vitae Corp Japan Inc.
Vitae Corp Japan is a manufacturer of Plasmalogen products which have sold over one million units in Japan. Vitae Corp Japan is also an evangelist for Japanese-made products, and work to shed a light on fine Japanese products that are still unknown around the world.
For more information, please contact:
William Rowe, President and CEO, Nutrasource
+1 (877) 557 7722 | info@nutrasource.ca
Naoaki Iwasa, President, Vitae Corp Japan Inc.
+81-(3)-6869-7372 | global.info@vitae-corp.com