Adapting to the Pandemic: COVID-19
Over the past nearly two years our industry, among many others, has had to pivot and adjust according to the continually changing climate of COVID-19. SGS Nutrasource is pleased to have been able to quickly adapt and continue to execute in all service areas including clinical trials, certifications, regulatory and research and development, and also grow our staff team to assist with this adjustment. 
While staff and clinical trial participant safety has always been our top priority, we are sensitive to project timelines and deliverables and have implemented a series of new processes to meet our clients needs. With the guidance of our strong leadership team, Joint Health and Safety Committee and a flexible staff group, SGS Nutrasource continues to deliver for our clients. 
Each day we continue to implement procedures to mitigate risks due to the ongoing situation and we want to share our strategy with you so that you can have full confidence in our project management and ability to meet your needs. 
Learn more about how we've adapted the following areas:
Since 2019, SGS Nutrasource's Joint Health and Safety Committee (JHSC) has implemented several strategies to assure staff security and safety. In light of COVID-19, our JHSC has been quick to address the rapidly changing situation and provide weekly updates and ensure health and safety measures are in place including, but not limited to:
staff and visitor screening procedures
new and/or revised policies
personal protective equipment
safety decals and barriers (e.g. partitioned seating/work areas)
With the guidance of JHSC, SGS Nutrasource continues to work safely and effectively with a full return of staff to office in September of 2021.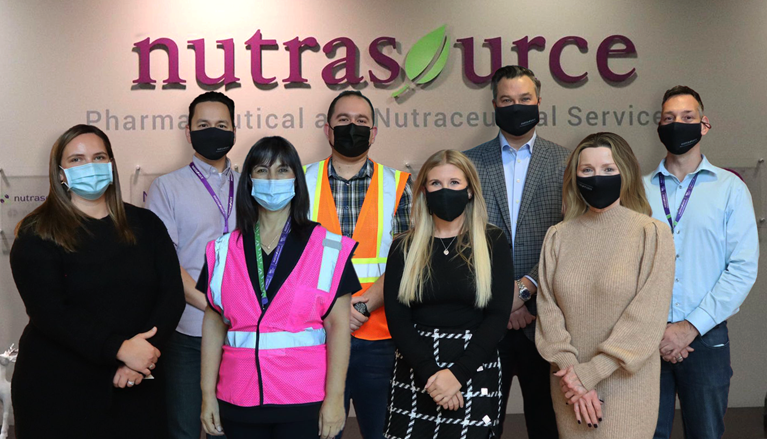 Team members include: Brad Wallace (Chief Operating Officer), Joshua Baisley (VP, Clinical Design and Delivery), Kevin Yan (Director, Certifications and Analytics), Sandra Dudziak (Nurse Practitioner), Saif Abdulwahaab (Lab Manager), Katherine Welsh (Lead Data Manager), Sophie Wilkinson (Human Resources Manager), and Cynthia Jarvis (Office Administrator)