November 08, 2018

We're back this year as the official sponsor of the Probiotics Resource Center at SupplySide West, November 8-9 in Las Vegas. Nutrasource is again partnering with the International Probiotics Association (IPA) to bring together people and companies involved in advancing the probiotic and prebiotic industry.
Stop by the Probiotics Resource Center (pavilion 5355) to learn about the latest research, network with industry leaders and scientists, and discover innovative solutions for successful market access. Schedule a meeting with our team during the show.
Featuring Proud Supporters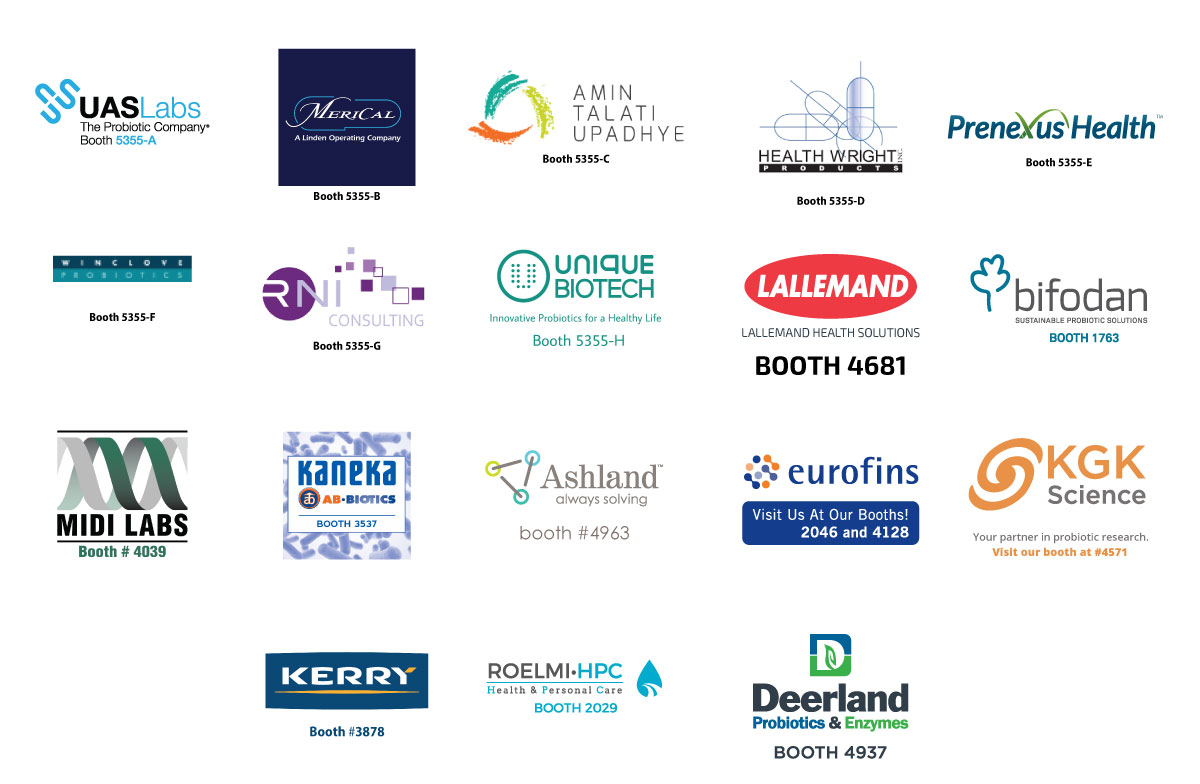 IPA Probiotics Resource Center Schedule
Thursday, November 8
10:30 AM
Smart Science: Genomic tools to help both manufacturing and marketing teams
Mehgan Styke, Business Development Manager, Eurofins BioDiagnostics
11:20 AM
The Role of Probiotics in Sports Nutrition
John Deaton, PhD, Vice President of Science and Technology, Deerland Probiotics & Enzymes
12:10 PM
Temperature Stable Probiotics (TSP) with World's Only Thermostable Probiotics
Dr. Shrilakshmi Desiraju PhD, MBA, Co-Founder/ Director Business Development, Triphase Pharmaceuticals
1:00 PM
Gut-Brain-Axis: New Study – Probiotic Supplementation Improves Mental Health in Healthy Women
Dr. Ralf Jäger, FISSN, CISSN, MBA, Managing Member, Increnovo LLC, Senior Scientific Advisor to Ashland
1:50 PM
BNR17: A Clinically Supported Weight Management Probiotic
Dr. Gregory Leyer, PhD, Chief Scientific Officer, UAS Labs
2:40 PM
The Art of Manufacturing an Innovative Probiotic Product
Jeremy Bartos, PhD, VP of Research & Development, MeriCal
3:30 PM
B. lactis LAFTI® B94: The Probiotic Strain for Hearty Kids and Teens
Morgane Maillard, Product Manager, Lallemand Health Solutions
4:20 PM
Emerging Global Trends in Probiotic Products
Eileen O'Shea, PhD, Senior RD&A Manager, Kerry
Friday, November 9
10:30 AM
Oral multispecies probiotic supplement to colonize vaginal epithelium, restore healthy vaginal microbiota and reduce recurrences rate of bacterial vaginosis.
Dr Cristiana Piangiolino, Market Manager, Nutraceutical & Food, ROELMI HPC
11:20 AM
Thriving in a microbiome health revolution and the growing demand for prebiotics
Steve Hanson, Senior Vice President, Global Sales, Prenexus Health, Inc.
12:10 PM
New Evidence for Lactobacillus Plantarum TWK10 in Human Exercise Performance
Wen-Shiaw Lan, Overseas Affairs Manager, SYNBIO TECH
1:00 PM
Finding what is real and reproducible in microbiome datasets
Greg Gloor, PhD, Professor of Biochemistry, University of Western Ontario
1:50 PM
Selecting probiotics from their mechanism of action: from bench to bedside
Jordi Espadaler PhD, Chief Scientific Officer, AB-Biotics SA
2:40 PM
Drugs: Learn How to Turn a "Bad" Word into a Growth Opportunity
Joshua Baisley, Director of Clinical Trials, Nutrasource Pharmaceutical & Nutraceutical Services
3:30 PM
Efficacy of Bacillus coagulans Unique IS2 in Digestive Health
Dr. Jayanthi Neelamraju , Ph.D, Manager – Scientific Affairs, Unique Biotech
4:30 PM
IPA Comedy Show
Last Probiotic Comic Standing
Ivan Wasserman, Esq. IPA Legal Counsel & Managing Partner, Amin Talati Upadhye
Ivan Wasserman is once again trading in his Code of Regulations for a rubber chicken with his attempt at stand-up "comedy." A funny lawyer?   You'll have to judge for yourself.